Vinyl flooring
Circular ready flooring
Vinyl and sustainability
Almost all of our high-quality vinyl flooring products can be recycled to close the materials loop.
Across our extensive vinyl range we offer lots of floors that are adhesive-free, and therefore are easy to remove and circular ready. In addition, many of our vinyl floors are made with a high percentage of recycled materials. They are produced in modern, environmentally sound European production facilities.

All our commercial vinyl is completely safe, with low carbon emissions that we declare using third party verified Environmental Product Declarations (EPDs).
Vinyl Flooring facts
Vinyl flooring is the perfect product to keep going round with for circularity. Vinyl can be recycled up to 10 times without losing any performance.

With Colorex plus having 89% recycled content we offer the ultimate recycled product in vinyl.


Forbo's manufacturing plants in Europe ensure high quality products which are manufactured using 100% green electricity and minimum waste streams that are all recycled back into the product.
Circular ready vinyl flooring
Adhesive free solutions
Our vinyl range includes circular-ready flooring. Floors that can be installed without the need for adhesives.

Sheet
Modul'up adhesive-free sheet vinyl is a truly innovative product, ready for a circular future.

Tiles & planks
• Allura Click Pro – our luxury vinyl tile offering in realistic wood and stone designs that can be quickly and easily installed thanks to our proven and patented 'click' system

• Allura Puzzle - our puzzle-shaped tiles are ideal for large-scale installations, as each tile is 96 x 96cm and is simple to install by simply putting the tiles together like a puzzle

• Colorex Plus - an adhesive free tile format that also offers anti-slip and conductive options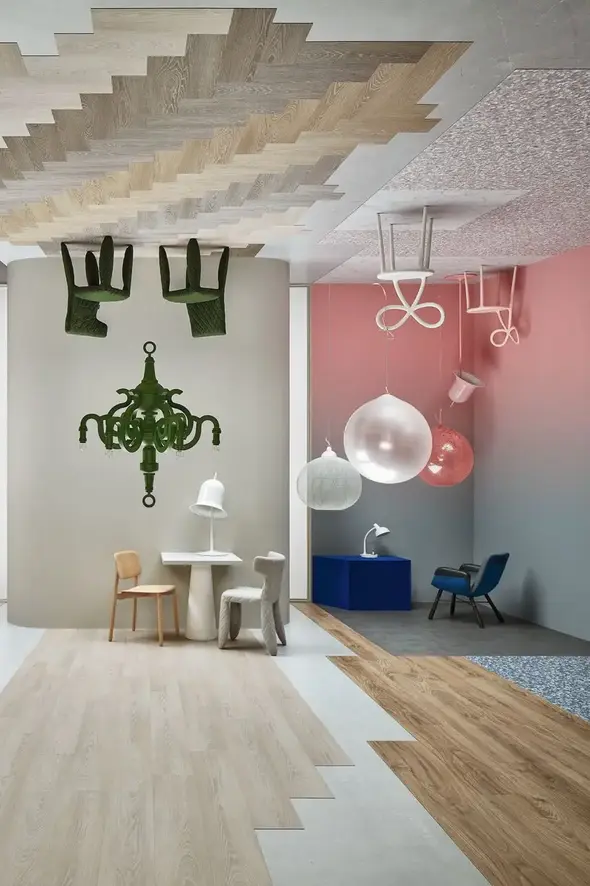 Our vinyl floorings are safe
Designed for circularity
Our vinyl floorings are made with recycling in mind.

To make sure our floors can be recycled at the end of their useful life, we ensure that all vinyl flooring we produce meets the strictest health requirements. For this we follow the REACH* list. That means that our vinyl is safe to use and safe to recycle. It contains no heavy metals, formaldehydes or CMR content (carcinogenic, mutagenic, reprotoxic), no solvent based inks, and no PCP.



*REACH (Registration, Evaluation, Authorisation and Restriction of Chemicals) is a European regulator listing chemical substances with potential impact on human health.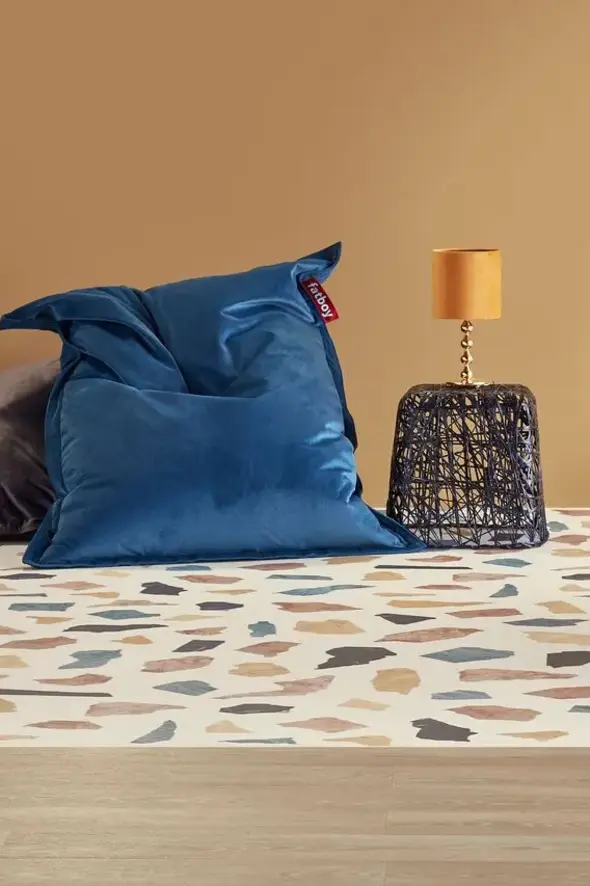 Recycled content
Recycling is second nature for our vinyl flooring
Vinyl flooring is perfect for reusing again and again. Vinyl can be recycled up to 10 times with no loss in performance.

With Colorex Plus having 89% recycled content, we offer the ultimate recycled vinyl flooring product.

Our manufacturing plants in Europe secure high-quality products manufactured using 100% green electricity where available and with minimum waste streams. Virtually all waste produced is recycled back into our products.

With our Back to the Floor recycling program, we instigate the take-back of vinyl waste from our customers to grow recycled content even further. Our EPDs show the actual recycled content in each product. Occasionally, maximising recycled content isn't the best way forward.
View the list of recycled content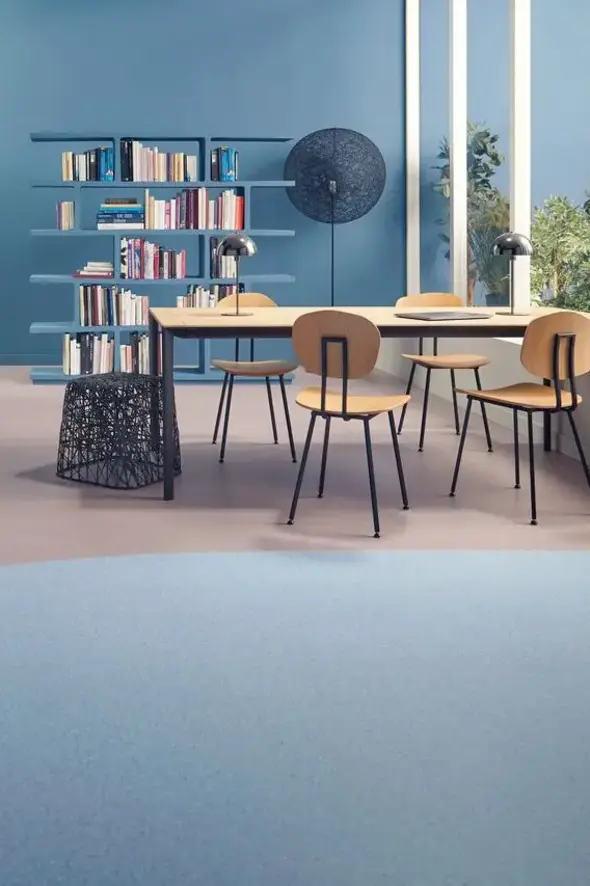 Very low carbon footprint
With our continuous assessment and improvement we are proud to declare that Forbo Flooring vinyl products outperform the market average.
At Forbo, we offer vinyl products with a low carbon footprint. Our independent EPD's include the latest performance for each product. The average footprint of vinyl flooring produced in Europe can be found here.
There's nothing like vinyl
A Variety of Functional Options in a Wide Range of Designs Developed for Long Lasting Use
Over its whole life cycle, vinyl floor coverings perform well across a range of environmental impacts.

As a material, vinyl is ideally suited to being recycled. It is 100% recyclable and can be recycled over 10 times without losing any of its performance properties.

We do not offer a vinyl with alternative polymers, such as a Polyolefine or PUR. We also do not use bio-based plasticisers, as we think that using palm or castor oil is by default not a better environmental solution. At Forbo Flooring Systems, the bio-based alternative to vinyl is Marmoleum while overall, vinyl offers the widest design choice and functional options.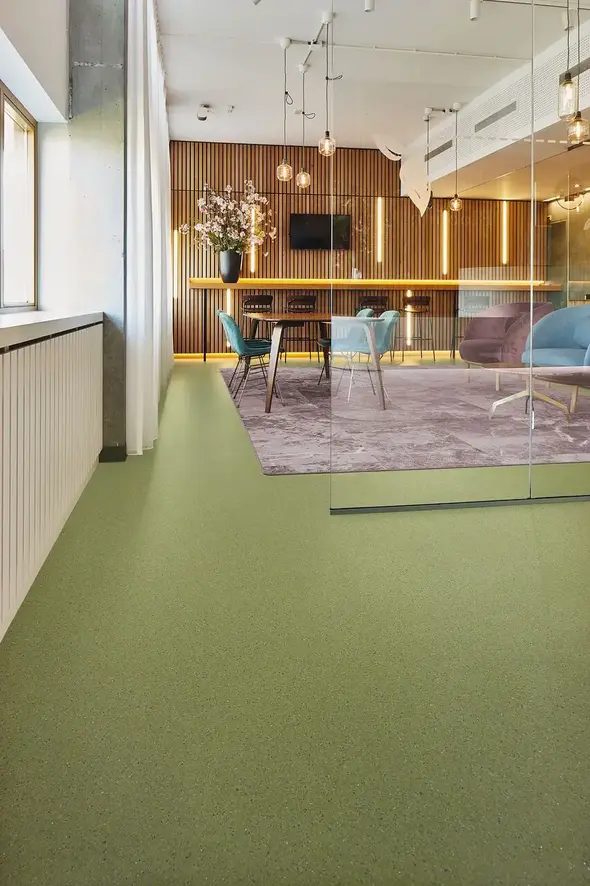 Indoor air quality
Low product emissions
In order to secure a safe indoor air climate, all our vinyl products comply with the strictest emissions standards. Our flooring ranges are tested in accordance with key international standards.

We have approval certifications for AgBB, FloorScore® and Afsset.

That means that our vinyl flooring meets the requirements of:
• E1 Declaration conformance to EN 14041:2004
• WELL Building Standard®

And contributes to:
• BREEAM®
• LEED®
• Green Star® projects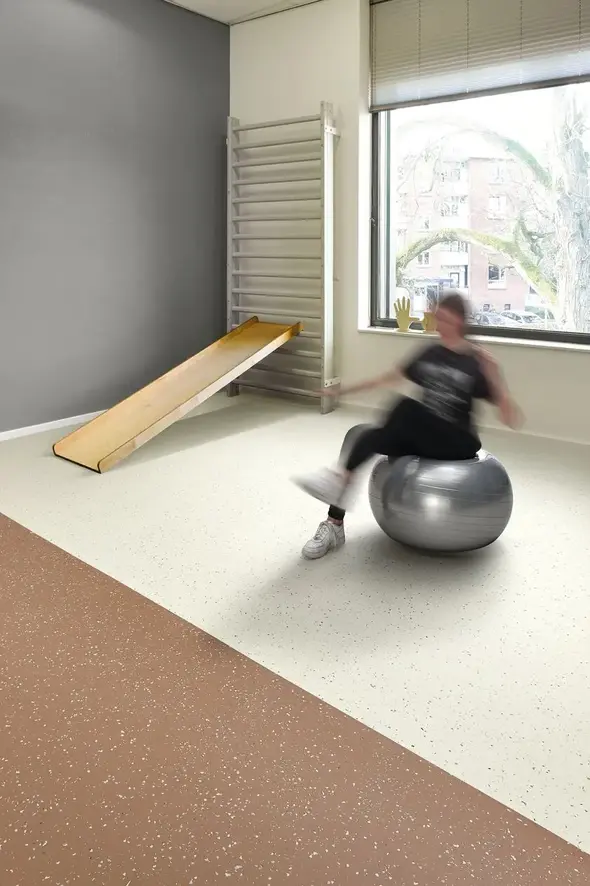 Efficient production process
Sphera has low recycled content
In order to make sustainable vinyl flooring, at Forbo Flooring Systems we sometimes do things that defy convention.

One example is how we make our homogeneous vinyl Sphera. The traditional way to make flooring like this is to take off over 10% of the backing at the end of the line to achieve the right thickness.

Our state-of-the-art production method has been engineered for efficiency so as to only produce very minimal waste. Any waste produced is then re-used in the backing of our heterogeneous vinyl.

This is a great example of where higher amounts of recycled content is not automatically better when minimum waste and re-use are taken into account.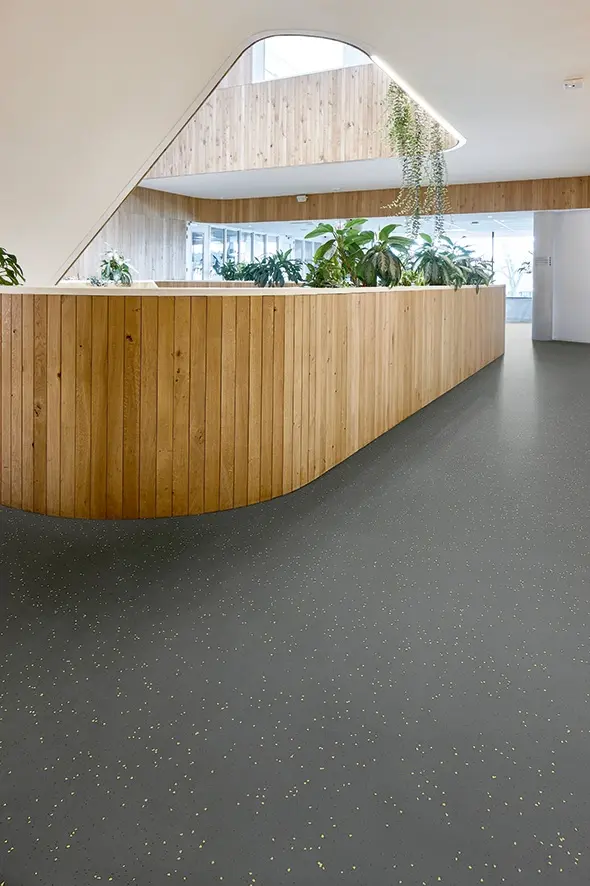 Our floor coverings
meet the building requirements
All our flooring products comply with emission guidelines according to AgBB and M1 standards. We have also certified some of them according to FloorScore. When it comes to building rating systems, most products achieve A or A+ ratings in BREEAM. In LEED, most products directly or indirectly contribute to the following categories and credits:

• Materials and resources building product disclosure and optimisation → EPD up to 2 points

• Building product disclosure and optimisation → sourcing of raw materials up to 1 point

• Construction and demolition waste management → up to 2 points

• Indoor environmental quality → low emitting materials up to 3 points

• Acoustic performance → up to 1 point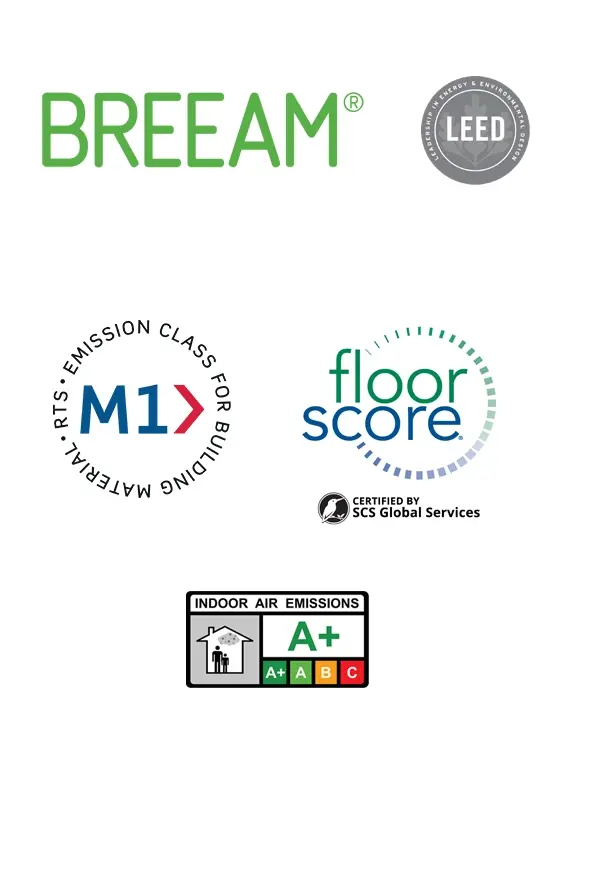 DISCOVER OUR VINYL FLOORS
CONTACT
Do you want to know more about our sustainability strategy, our flooring solutions or any other topic? We are here to help you!
Get in touch